Kevin Smith
films
Mallrats
and
Jay and Silent Bob Strike Back
. He is an unemployed comic book obsessed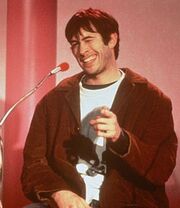 Sega playing slacker, living with his parents and lacking the motivation and maturity appropriate to his age. "Brodie" is named after the main character in Jaws (a favorite film of Smith's which the director frequently references in his work), while his surname "Bruce" was the nickname given to the anamatronic shark in Jaws'. His girlfriend Renee leaves him at the beginning of Mallrats and gives him a letter explaining all the reasons for leaving him. At the end of the film they're are back together it's mentioned that he went on to host a talk show; with Renee being his band leader and being liked by his mother (who he was originally too frightened to introduce to her to). He makes a small appearance in Jay and Silent Bob Strike Back where he now owns his own comic book store called "Brodie's Secret Stash".
Brodie Bruce is a fictional character played by Jason Lee in the
Ad blocker interference detected!
Wikia is a free-to-use site that makes money from advertising. We have a modified experience for viewers using ad blockers

Wikia is not accessible if you've made further modifications. Remove the custom ad blocker rule(s) and the page will load as expected.